What is international marketing?
International marketing (IM) is the process of promoting and selling products and services across national borders. The field started in the late 19th century when companies began to expand their operations beyond their home countries. The Singer Sewing Machine Company was one of the earliest examples of global marketing, opening a factory in Scotland in 1867.
During the 20th century, international marketing grew as companies established subsidiaries and distribution networks in foreign countries, developing marketing strategies tailored to local cultures and preferences. The 1980s and 1990s saw the emergence of new technologies and communication channels, leading to the rise of e-commerce, online advertising, and new forms of market research and data analysis.
Today, the growing importance of emerging markets such as China and India, as well as the increasing influence of social media and mobile devices, has created new opportunities and challenges for international marketers. Companies must develop strategies that account for cultural, linguistic, political, economic, and social factors that shape consumer behavior worldwide.
Why international marketing is important
International marketing is a critical aspect of global commerce, and there are many reasons why individuals and businesses should care about it.
International marketing allows businesses to expand their markets: Expanding a company's reach beyond domestic markets is a crucial factor for its growth and success. Companies should care about global marketing because it provides them with the opportunity to tap into new markets, diversify their customer base, and increase revenue and profits. By developing marketing strategies that are tailored to local cultures and preferences, businesses can engage with consumers in a meaningful way and build long-lasting relationships.
International marketing drives innovation and competitiveness: As businesses compete to develop products and services that appeal to diverse global markets, they constantly innovate and improve their offerings, driving technological advancements and enhancing competitiveness. Additionally, marketing in foreign markets fosters cross-cultural exchange and understanding, which is essential for businesses that operate in different countries.
International marketing promotes economic growth and development: By increasing global trade and investment, marketing internationally creates jobs and stimulates economic growth, benefiting businesses, consumers, and economies around the world.
Five steps of the international marketing process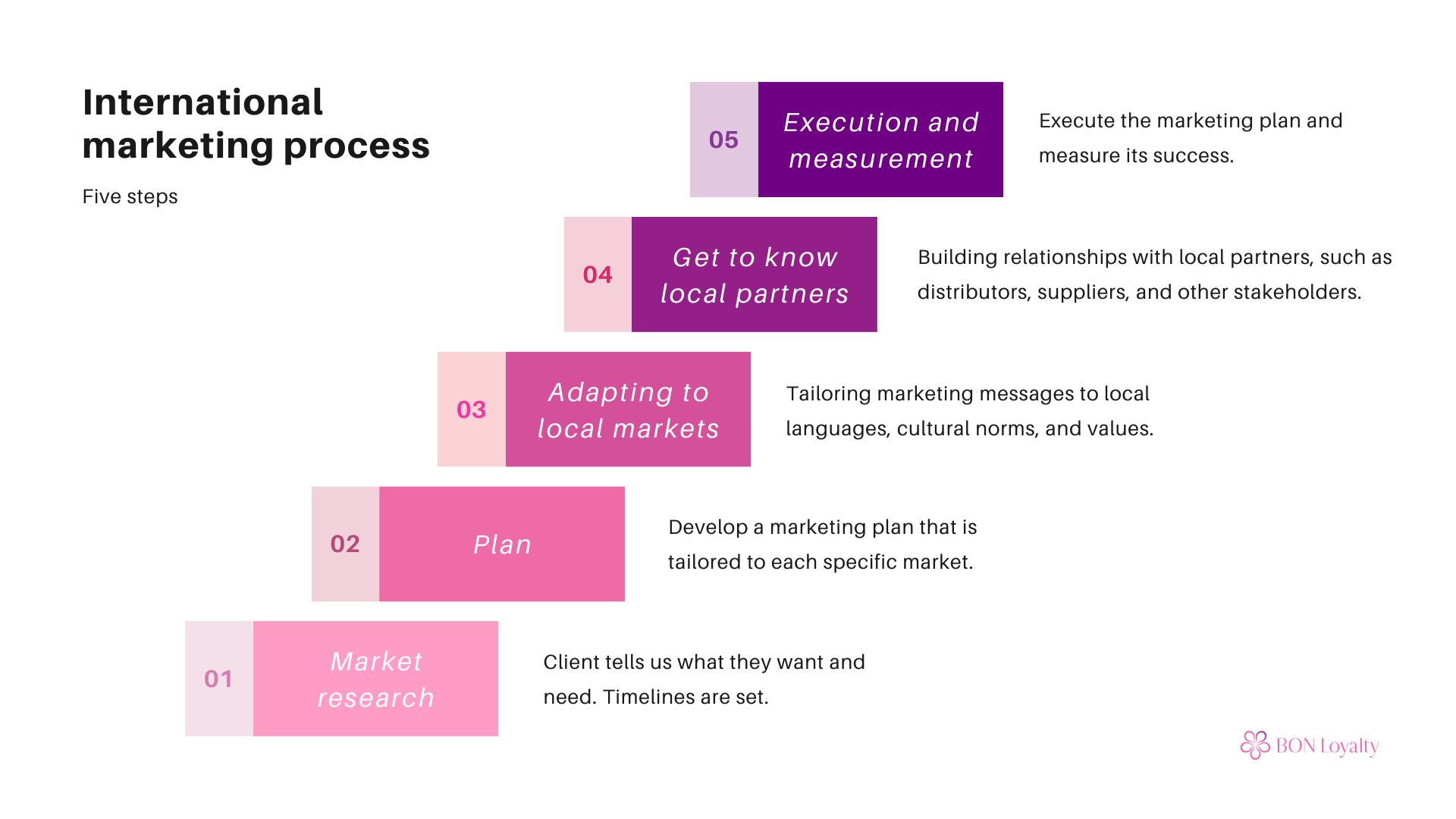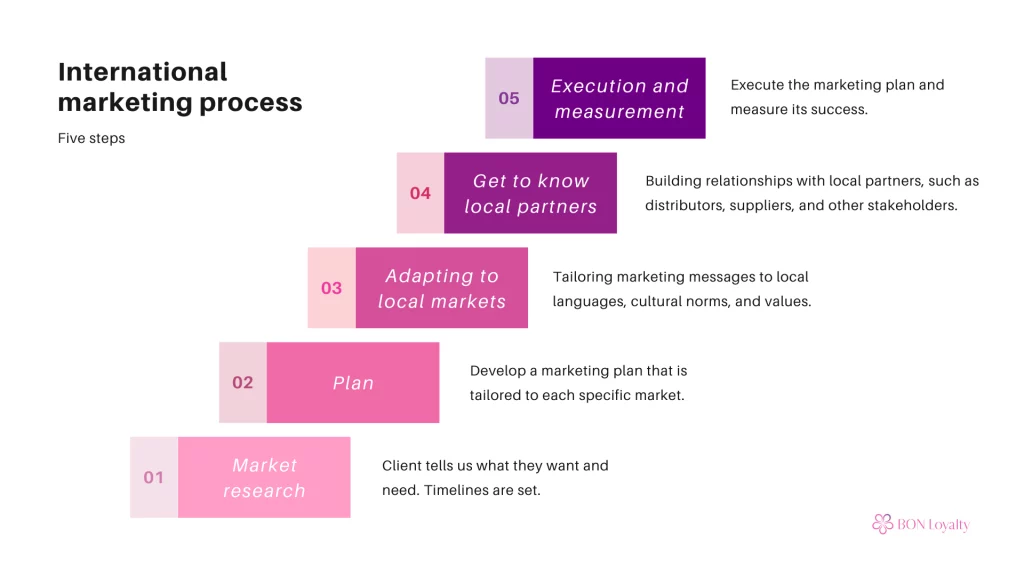 The process of increasing international marketing involves several key steps:
Market research: The first step is to conduct market research to identify potential opportunities in foreign markets. This involves analyzing market trends, consumer behavior, cultural differences, and other factors that may impact marketing strategies. How to do a market research
Develop a marketing plan: Once potential opportunities have been identified, the next step is to develop a marketing plan that is tailored to each specific market. This includes developing marketing messages, selecting appropriate marketing channels, and setting marketing objectives and budgets.
Adapting to local markets: Adapting to local markets includes tailoring marketing messages to local languages, cultural norms, and values, and developing products and services that meet the needs and preferences of local consumers.
Build relationships with local partners: Building relationships with local partners, such as distributors, suppliers, and other stakeholders, can help businesses navigate the complexities of international markets and gain access to local knowledge and expertise
Execution and measurement: The final step is to execute the marketing plan and measure its success. This includes tracking sales, website traffic, engagement rates, and other key performance indicators, and making adjustments as needed to optimize marketing strategies.
By following these steps, businesses can expand their presence in foreign markets and achieve long-term success.
How brand loyalty can affect IM
Brand loyalty is a consumer's commitment and. preference towards a specific brand or product over others. It is a measure of the customer's willingness to consistently purchase from and remain loyal to a particular brand despite the availability of alternative options.
Brand loyalty and loyalty marketing are also important factors throughout the process of increasing international marketing. It plays a crucial role in several steps, including:
Market research: Understanding the level of brand loyalty in potential target markets is essential for identifying opportunities for marketing internationally. High levels of brand loyalty can indicate a favorable market for a company to expand into, whereas low levels of brand loyalty may suggest a need for additional investment in building brand awareness and loyalty.
Adapting to local markets: Adapting to local markets includes building brand loyalty marketing among local consumers. By understanding local preferences, needs, and values, companies can tailor their marketing strategies to build a strong emotional connection with consumers and encourage repeat purchases.
Building relationships with local partners: Building strong relationships with local partners, such as distributors and suppliers, can help companies build brand loyalty in foreign markets. Local partners can provide insights into local market dynamics and customer preferences, which can help companies develop effective marketing strategies and build relationships with customers.
In conclusion, brand loyalty marketing is an important factor throughout the process of increasing international marketing, from market research to adapting to local markets and building relationships with local partners. By building a strong brand and fostering customer loyalty, companies can increase their chances of success in foreign markets.
You may wanna read: How does social media marketing affect brand loyalty?