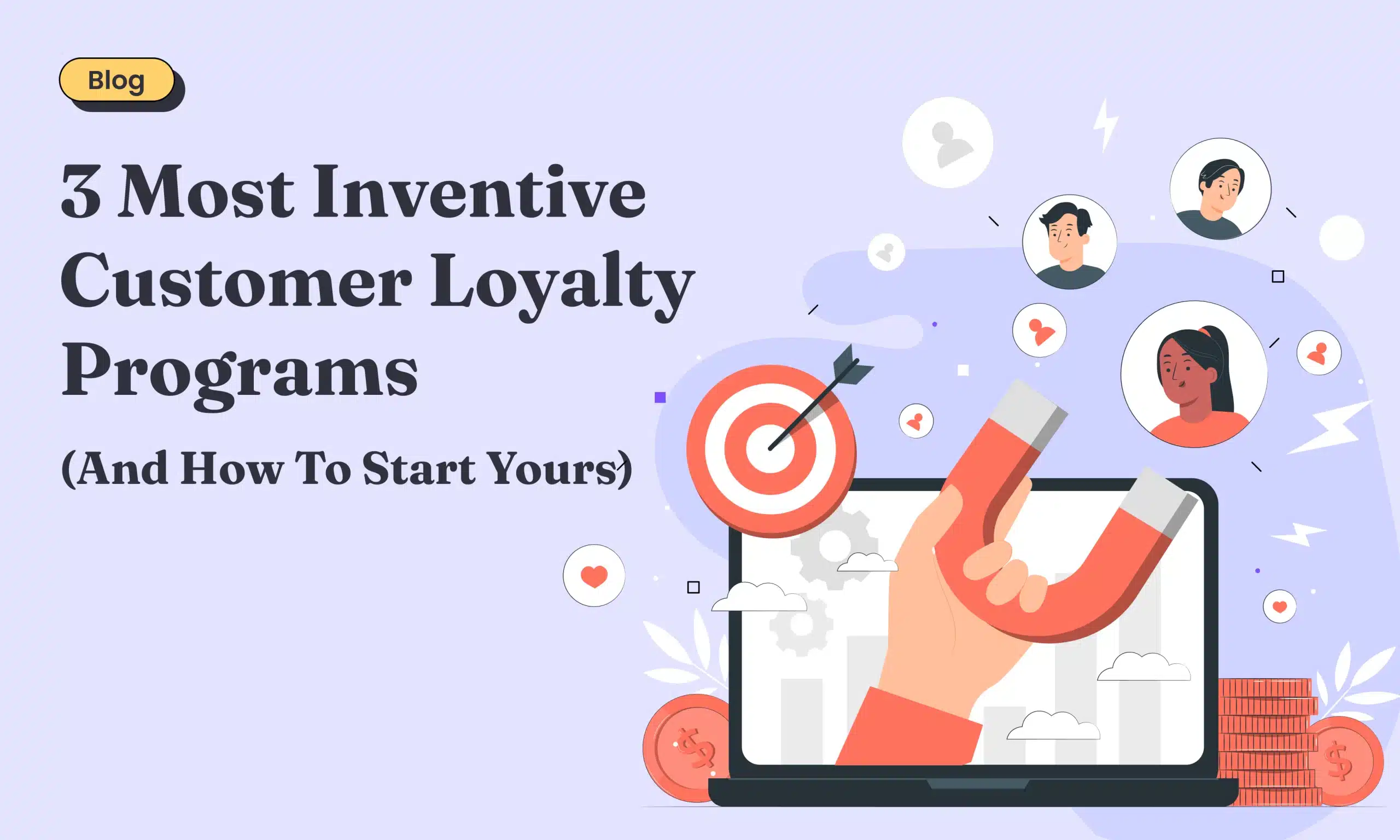 3 Most Inventive Customer Loyalty Programs (And How To Start Yours)
9 June, 2023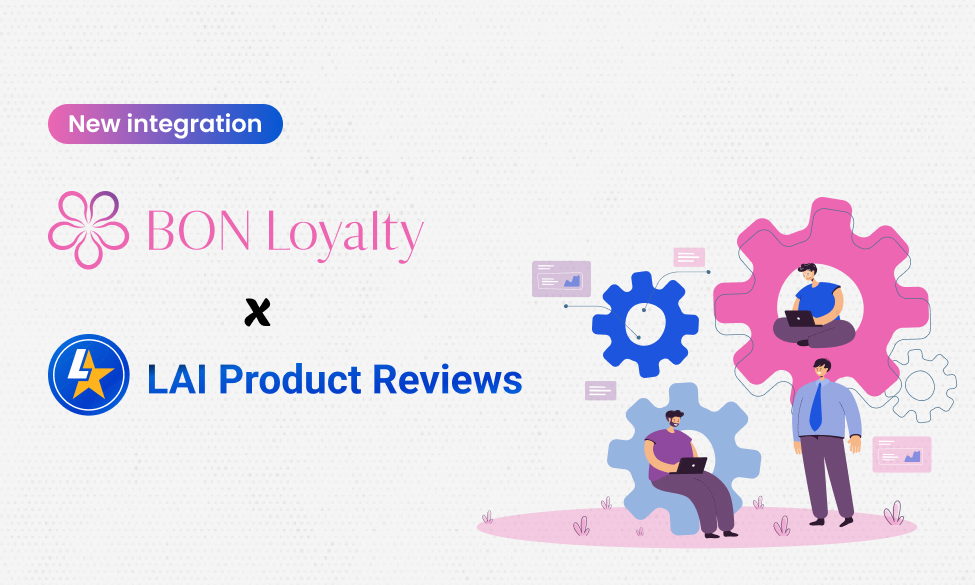 NEW UPDATES: BON x LAI Product Reviews
2 August, 2023
History of Starbucks
Starbucks has become one of the biggest coffee brands in the world. Not long after they opened their first store in Seattle, they expanded rapidly, and now the coffee chain has close to 24,000 stores worldwide.
Starbucks' brand identity begins with a green logo in a circular shape. The green color elicits nature, tranquility, and health in the person who drinks Starbucks. In 2011, Starbucks took the bold approach to completely removing the outer ring of their logo that had the Starbucks name.
Why Is Starbucks so Successful Despite Its Mediocre Coffee?
In 2022, Starbucks gained a sum of more than 32 billion dollars in revenue. And it is predicted to rise continuously in the next 2 years. Even though some people think their coffee is just average, Starbucks has still become incredibly popular. The secret to their success in sales is their focus on giving customers a great experience. Starbucks is more than just a place to get coffee – they create cozy stores where people feel like they belong and a brand image also indicates people's class in society.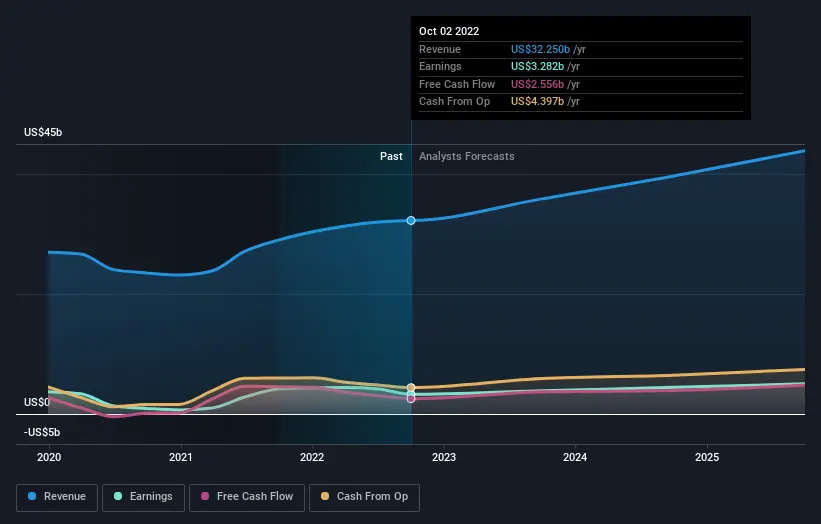 Starbucks also does a fantastic job of promoting themselves. They have unique marketing strategies that help them stand out from other coffee shops. They have built a strong brand and connect with customers on an emotional level.
The important thing to understand is that Starbucks' success doesn't depend only on the taste of their coffee. It's about the entire experience they offer to customers. That's why they have been able to thrive and become a leader in the coffee industry, despite some people thinking their coffee is not too outstanding. An important strategy that contributed to its success is its focus on its loyalty program – The Starbucks Rewards.
Starbucks Rewards: Starbucks Loyalty Program
If you are a fan of Starbucks, you must be so much familiar with their loyalty program called Starbucks Rewards. Everyone The Starbucks Rewards program employs a simple point-based system, where customers earn points for every purchase. These points can be redeemed for unique drink customizations and other treats. The convenience of the Starbucks app, offering multiple payment methods, order-ahead options, and personalized communications, enhances the customer experience and encourages continued engagement.
What makes Starbucks Rewards so successful?
They personalized customers' rewards
Starbucks Rewards does a great job of offering personalized rewards based on each customer's preferences and purchases. They use information about individual customers to give them special discounts or offers that they would find most interesting. As a Shopify owner, you can learn from this and use customer data to provide personalized rewards to your customers. You can offer them exclusive discounts or incentives that are tailored to their specific interests and buying habits.
Use tiered membership with exclusive offers
Starbucks Rewards has different levels of membership with increasing benefits based on how engaged customers are and how much they spend. They reward customers who are more active or spend more with additional perks. You can do something similar with your loyalty program by creating different tiers or levels of membership. Customers who reach higher levels can enjoy extra benefits like free shipping, early access to sales, or special content.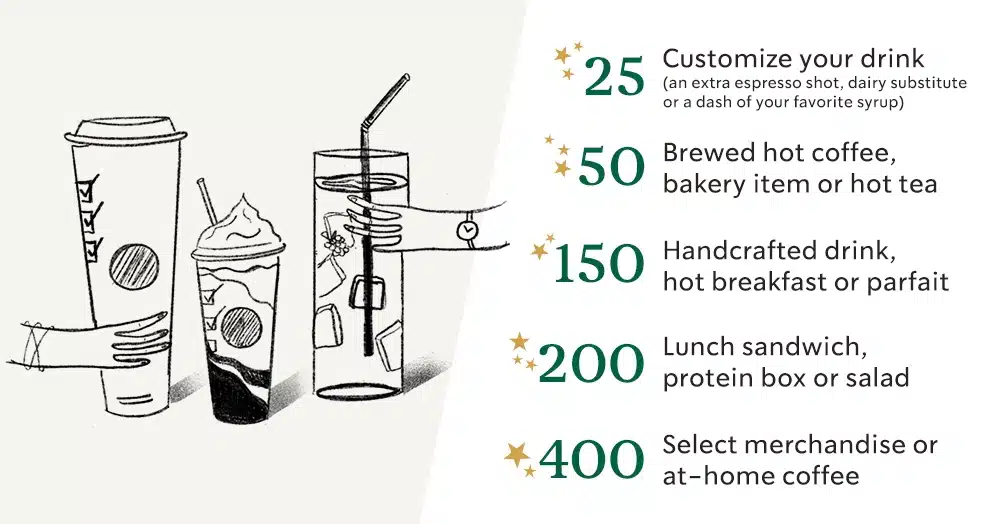 Starbucks Loyalty program has a mobile app that makes it easy for customers to access their loyalty points, order ahead, and pay for their purchases. They have made it convenient for customers to engage with their loyalty program using their mobile phones. As a Shopify owner, you can learn from this and integrate your loyalty program into a mobile app. This way, your customers can easily track their points, make purchases, and enjoy the benefits of your program right from their smartphones.
Gamification Elements with its Starbucks for Life and Bonus Star Bingo
It created new models in gamification. Starbucks entered digital gaming in 2015 with its Starbucks for Life and then Bonus Star Bingo, which enables loyalty members to accumulate points and prizes over a period of time. Like other activities tied to Starbucks Rewards, the sheer size of its membership – 19.4 million – ensures a level of adoption from which other retailers could learn. By gamifying the experience and putting a promotional program to work to engage the customer beyond simple discounts, this is a game every retailer should pay attention to as it shapes its own program.
Starbucks Rewards adds elements of fun and excitement to their program by including challenges, bonus offers, and progress tracking. They make it feel like a game where customers can earn rewards and reach certain goals. You can consider adding similar gamification elements to your loyalty program. This could involve setting up challenges for customers to complete, offering bonus rewards for specific actions, and allowing them to see their progress toward earning more benefits.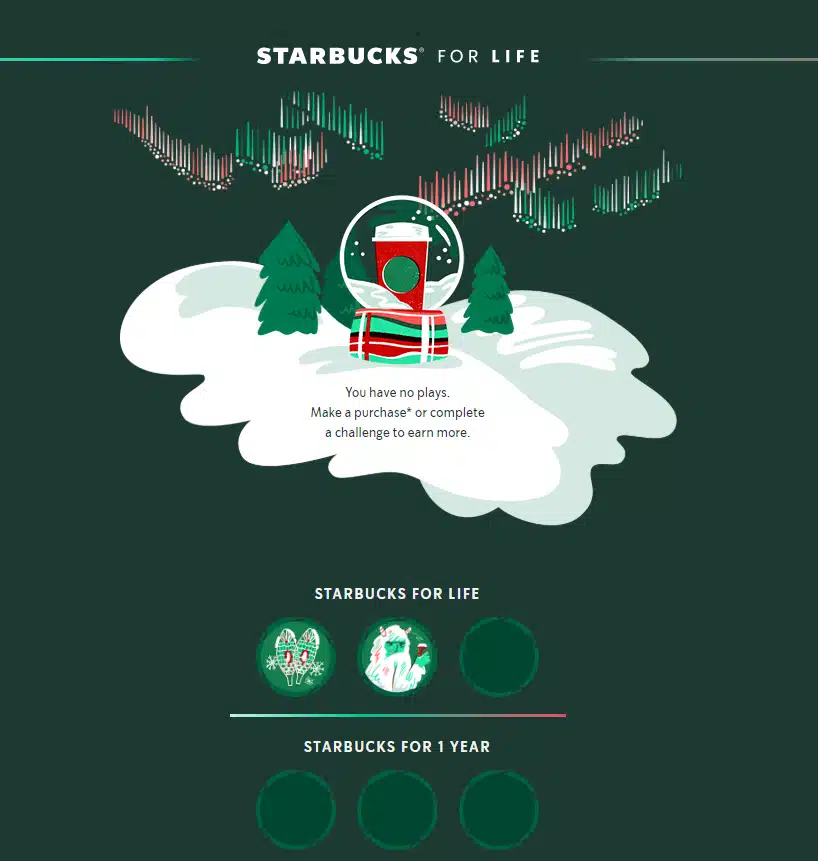 Social and Community Engagement
Starbucks Loyalty program creates a sense of community by hosting exclusive events, giving early access to new products, and providing a platform for customers to share their thoughts and ideas. They encourage customers to engage with each other and with the brand. As a Shopify owner, you can learn from this and focus on building a community around your loyalty program. You can offer exclusive events or sneak peeks of new products, and provide a space for customers to interact and share their experiences.
In 2018, Starbucks had a problem. While their most loyal group of customers were actively enrolled in Starbucks Rewards, that left 60 million customers a month who had no digital relationship with the brand at all.
Once identified, establishing a digital relationship with these customers became the cornerstone for expanding Starbucks' omnichannel retailing strategy.
Starbucks Rewards seamlessly connects their loyalty program across different channels, including physical stores, mobile apps, and online orders. They make sure that customers can earn and redeem rewards no matter where they shop. As a Shopify owner, it's important to provide a similar omnichannel experience. Your customers should be able to earn and use their loyalty points whether they are shopping in your store, using your mobile app, or making purchases online.
Communication and Transparency
Starbucks keeps their loyalty program members updated with regular communication. They share updates, offers, and personalized recommendations with their customers. We see the vision play out in Starbucks' triggered email campaigns. Many offers require customers to be enrolled in Starbucks Rewards. Below is a great example.
As the ad says, "Starbucks Rewards members who use the app to order ahead a handcrafted beverage (grande or larger) get a coupon for a free drink redeemable 3/10-3/12. Sign up for Starbucks Rewards to get the offer."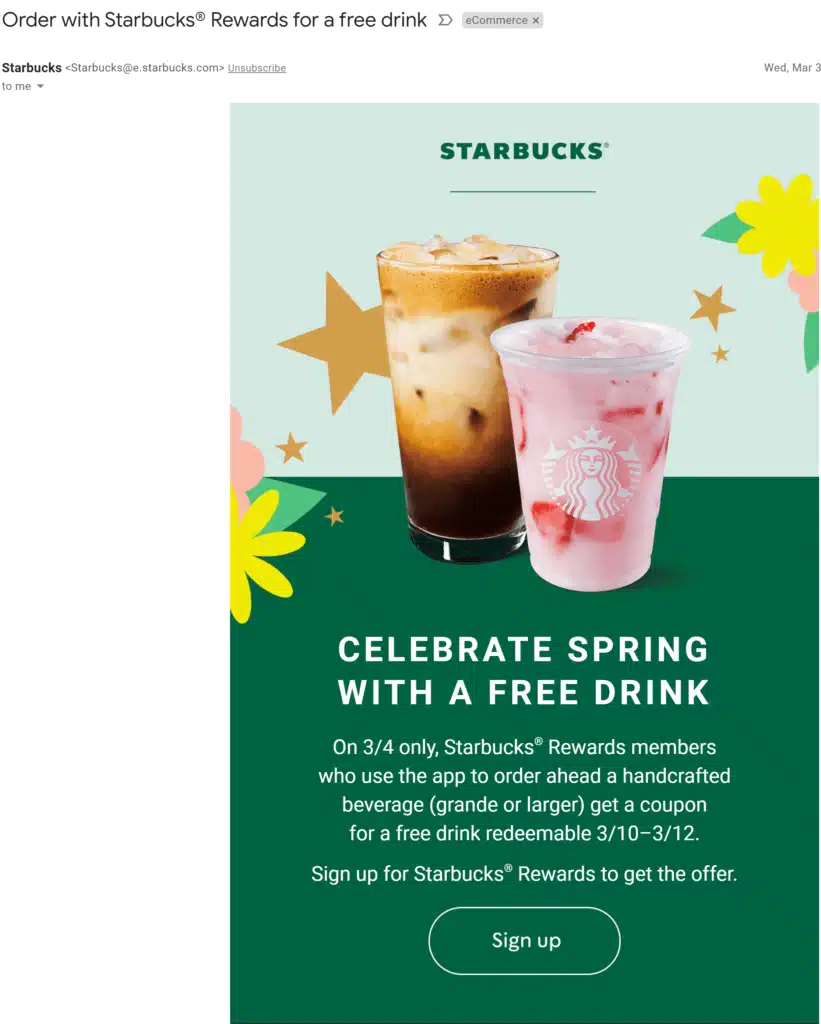 As a Shopify owner, you can learn from this and prioritize clear and transparent communication with your customers. Keep them informed about any changes or updates to your loyalty program, let them know about new rewards or promotions, and provide personalized recommendations based on their interests and past purchases. Embodied in the offer is a series of important actions Starbucks wants their customers to take.
Become a Rewards Member
Utilize the Starbucks app to order ahead, part of their click-and-collect strategy
Redeem in one week, to help further cement
Starbucks goes beyond unique offers for Rewards Members. They routinely create whole experiences for their customer base to take part in. One example is their annual "Starbucks for Life" event. Reward Members can collect game pieces by purchasing select items. Rewards range from $500 gift cards, Bose Earbuds, and, as the name implies, Starbucks for Life!
Continuous Program Optimization
Starbucks constantly evaluates and improves their loyalty program based on customer feedback, market trends, and data analysis. They always look for ways to make their program better and more appealing to their customers. As a Shopify owner, you can adopt a similar mindset of continuous improvement. Regularly assess how your loyalty program is performing, listen to customer feedback, and make changes to adapt to their needs and preferences. Keep an eye on market trends and use data to optimize and enhance your program over time.
Conclusion
Starbucks is a prime example of using loyalty programs to convert one-time coffee drinkers into loyal customers. Their well-designed loyalty program has fostered strong connections with customers, keeping them coming back. You can apply the eight insightful lessons provided to customize your own loyalty program and boost customer retention. Whether you are a brick-and-mortar retailer or an online Shopify owner, these lessons provide invaluable guidance for optimizing your loyalty program and driving customer engagement. By applying these lessons effectively, you can create a sense of loyalty, encourage repeat purchases, and grow your business.