Import data
26 April, 2022
Customize your widget text
26 April, 2022
Customize your widget's theme
Appearance and branding are vital for a loyalty program. A visually appealing helps impress your customers, creates recognition, and stands out from other businesses. Unique branding builds trust, makes customers remember your website, and enhances customer loyalty.

To personalize your loyalty program's display and match it with your store's branding, you can find all advanced options in Branding. In this Theme tab, you can customize how your widget will appear.
Note: Locked features are available from our Lite plan. Check out our pricing plans here.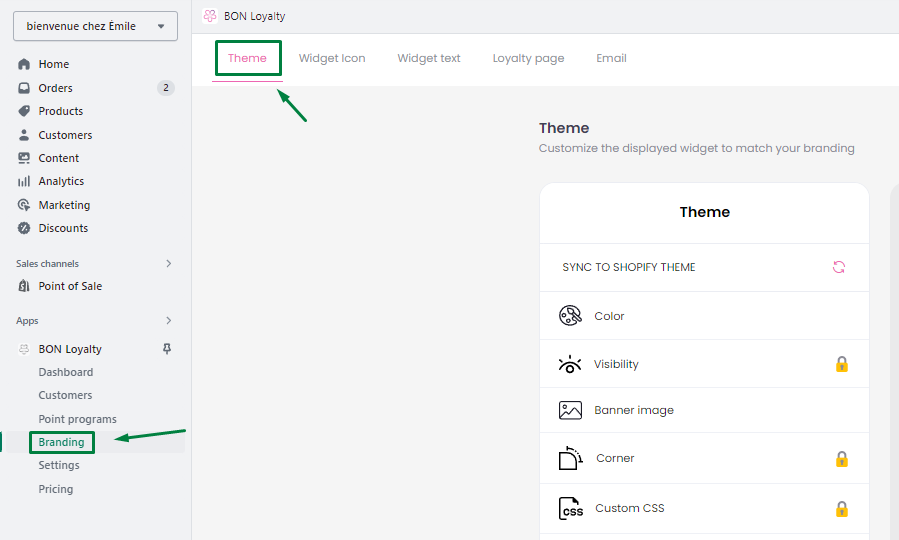 After you've changed your store theme, click the "Sync to Shopify theme" button to update the widget to the new theme.
To personalize your widget's theme, click on Color.
For Primary color and Secondary color, you can choose 2 colors for an ombre effect, or apply 1 color for both.
Select text color by clicking the Text Color block.
Tip: If you want to apply a color hex code, click on the color block and paste the code.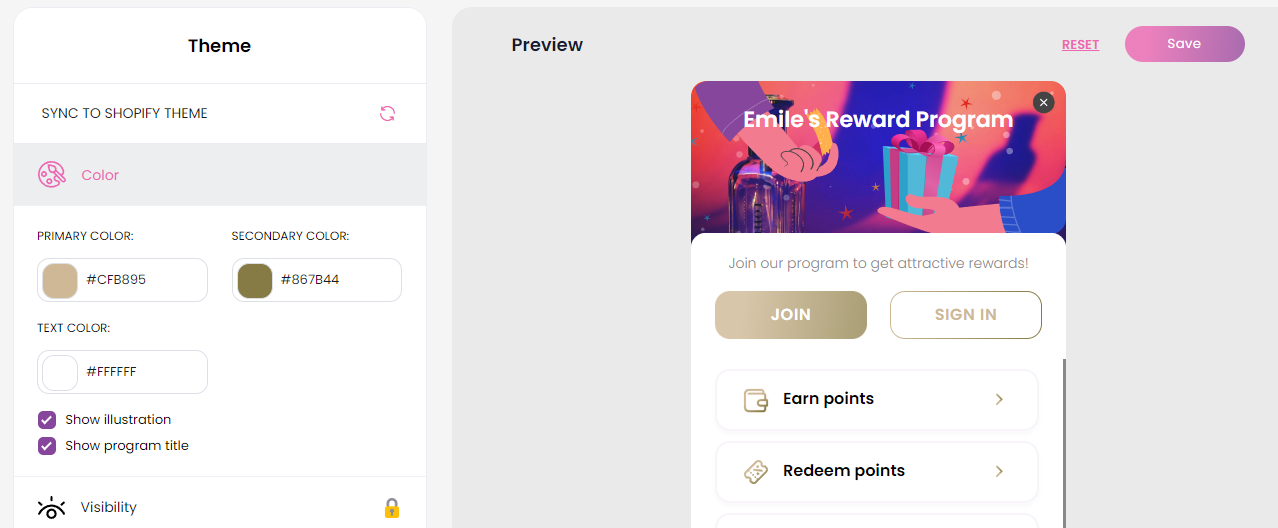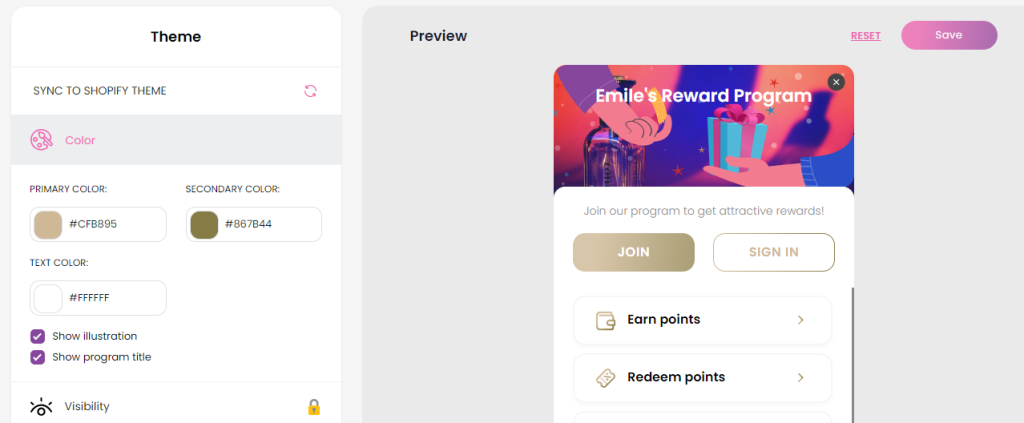 You can also choose to Show/hide Illustrations (the 2 hands giving gifts and coupons drawing)
and Show/hide the Program title (the text on the banner's widget)
To hide, uncheck the checkbox. This is how the widget will look like if you hide all these two options:
To change your widget's banner image, click on Banner Image > Upload
Requirements for the image are to have a 1.7:1 ratio (for example: 375x220px) and be less than 500KB.
Accepted file formats: .png, .jpg, .svg, .gif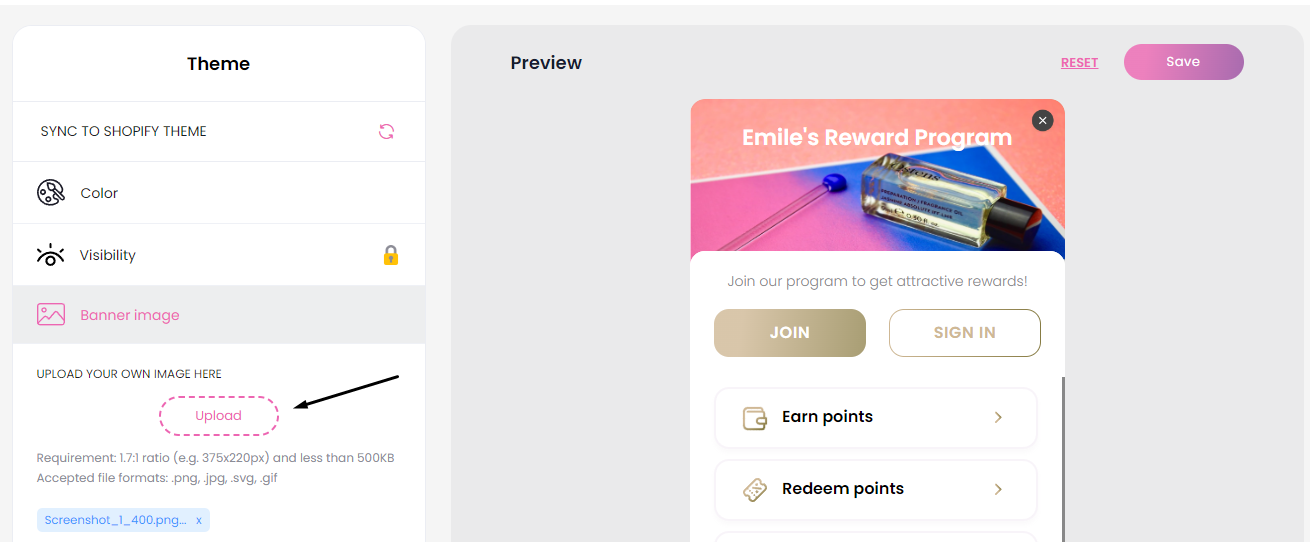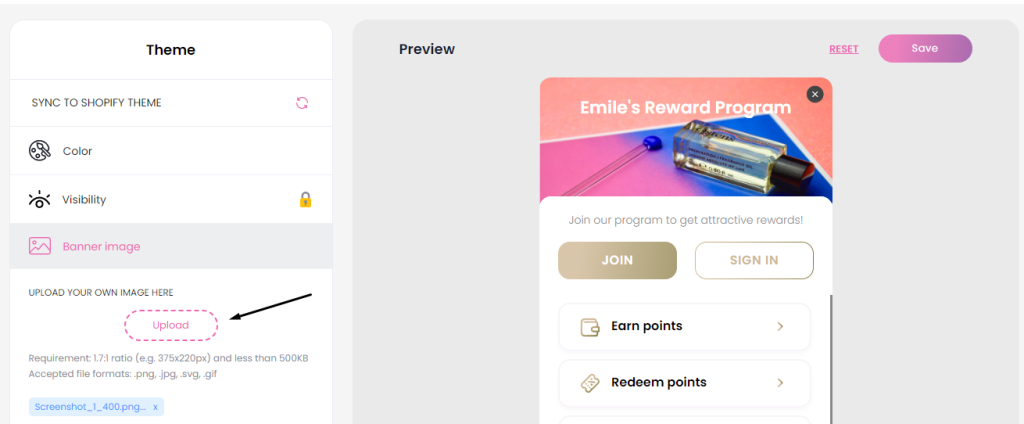 Note:
Click Save after finishing the setup
If you click Reset, all the settings will be permanently reset to default.